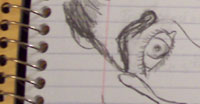 Today is Free-For-All Friday! Free for All means you can post whatever you want on my blog. Say what you want to say, share a link, complain about the wheels on your chair, etc…all you have to do is login and post! Need an idea of what to write? Write a short poem about the coming holiday weekend. Also, if you like poetry, try out my father-in-law's poetry forum site: AnOccasionalVerse.com. Hope I'm able to make it to everybody's FFAF today and please enjoy. EDIT: oops, forgot to enable the guest account right, works now!
Here's how to do it:
1. Go to http://www.schleifstein.net/wp-admin/post.php
2. Login/Password: guest/freeforall
3. Enter a title, make the category "free for all"
4. Type what you want to type in "Post" and feel free to add technorati tags in the "Tags" box.
5. When you're done, click "Publish"
Rules:
1. Please keep it somewhat clean…if you don't think I would post it, don't. God forbid if I find spam or porn links…
2. Feel free to link your blog…just make sure you say who you are. (sign your post)
3. I reserve the right to edit/delete inappropriate posts (or those with really obvious spelling mistakes)
4. Please don't link to images, since this is an artist portfolio site I prefer to have only my artwork here, your thoughts on anything are fine I just need to draw the line at image linking, thanks.
Quick haiku, for you…
Why not write a poem too?
Your turn now, have fun!

Check the FFAF blogroll plus a larger version of the art drawn in one of my notebooks during class so long ago that all I remeber is it was during college (but not which one or when) after the jump.
Continue reading 'Almost forgot to start the Memorial Day Weekend Free For All…'