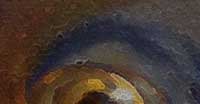 First off, the post. I created today's work using an original photograph I took of my and my wife's wedding rings inside of one of the wine glasses I painted that we used to drink wine during our wedding ceremony. I imported the image to Photoshop cropped and filtered and layered til, voila', something cool. I think the piece has a mysterious sunrise/sunset quality that, given the context of the parts, harkens to the end of our single life and the beginning of our new life together.
Now to the rant about Powweb. Lately I have no been happy with my hosting provider. I have been their customer for over two years now and even host two sites with them, but recently they decided it was a good idea to mess with their servers once a week and my site has been going down during weekday hours in the morning or afternoon. One weekend it went down for over 4 hours and today I was down for TWO HOURS. Now I realize I don't run an e-commerce site and my life souldn't revolve around my site, but I pay for this service and believe I deserve at least the level of service guaranteed by the homepage. It would seem that zero-down-time-hosting means down once a week and you better not be trying to run a business. I am stuck with these guys til September, but after that I will be leaving for a better provider if things don't change. I need warning if you're going to take down the servers for maintenance. A web forum is not the only way to notify paying customers and should not be used as such. I need to know that you aren't going to have a server failure once a month. I want the promised zero-down-time-hosting!
Aargh!
Anyway, this work was created March 13, 2005. Click though to see a larger version of the work.